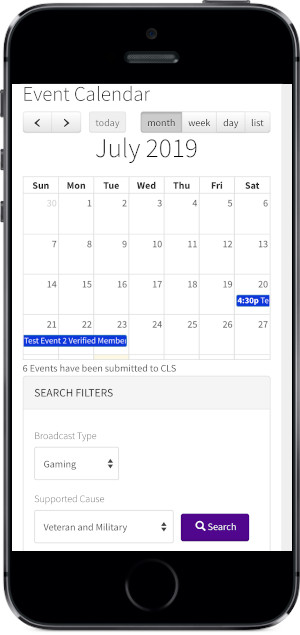 Get The Most Out Of Giving Back
Livestream fundraising is an optimal form of social good marketing and CLS helps you promote your brand while finding new talent in today's digital economy.
Our benefits allow you to:
Cut costs by dramatically streamlining employee/partner/nonprofit research


Provide a public, automatically updating showcase of Social Good Marketing & Corporate Giving


Enhance event exposure through SEO optimized pages serving as digital marketing hubs
​​​​​​​
Facilitate ambassador programs & talent acquisition, eliminating the need for internal databases that go outdated over time with VIP Business Membership
Business Membership Benefits
Any business can create a representative account, email us for verification, and claim their business showcase page at no cost.
Showcase Social Impact
Your SEO optimized business showcase page gives you the opportunity to promote your product/service, mission, social outreach, and causes or specific organizations your business supports. Charity livestream events you sponsor and projects you sponsor / organize automatically populate into the showcase page streamlining the archiving and promotion of your social good marketing and community outreach efforts.
Promote Business Needs
Clearly indicate the types of partnerships you're currently looking for with creators, nonprofits, and other businesses. Get connected with events and organizations on projects that fit your current availability.
Verify Partnership Availability
Vet potential employees with traditional resumes paired with portfolios that showcase skills, fundraisers, and projects to back those talents. When accessing showcase pages of other businesses, nonprofit showcase pages, and individual portfolios you can easily see the types of partnerships they're currently open to, streamlining outreach so you know before you reach out if they're open to a partnership with you.
VIP Business Membership
Access a ton of benefits for a low annual fee.
Manage Your Streaming Program
Stop fighting with spreadsheets and have members join your program directly through our communities and teams on CLS. Separate verified members from the rest, provide badges/ranks for those most successful in your program, showcase successful case studies through Projects, filter those interested in your programs by their talents, upgrade members to provide information/updates only they can see, manage your streaming toolkit to better control messaging, and give all joined members visibility to new opportunities in your organization.
Submit Unlimited Job Postings
No more paying per listing. All business communities and teams can submit job postings for review without limit to the CLS Opportunity Board. Job postings from businesses are outlined distinctly from Community Collaboration & Nonprofit Volunteering opportunities.
Streamline Partner Discovery
Advanced search features allow you to find the perfect individual, event, team, nonprofit, or business partner for your upcoming project. As a VIP Member you can then reach out to any individual or representative directly via email (if they have enabled direct contact on their account).
Purchase Promotion Packages
Feature your business, job opportunity, sponsored event, project, team, or dedicated nonprofit in the Featured spot at the top of the collection pages and top of applicable lists. Availability is on a first come, first serve basis so be sure to reserve the time slot you need ahead of time. Work with us to design custom community/team/program structures with specialized updates, roles, layouts, and functionality.
Offer & Access Exclusive Deals
As a VIP Business Member you can establish direct partnerships with us to sell your products/services to our VIP Members. Other VIP Members can sign up for email updates on new deals as well.
50% Off Memberships During Open Alpha
Purchase an annual membership before we launch to lock-in that rate for the length of your continuous membership.
Frequently Asked Questions
A live, fundraising event where broadcasters stream their content online and viewers donate to a specific nonprofit.
CharityLiveStream.com (CLS) is a fundraising focused, social action platform uniting gaming & art communities, nonprofits, and businesses.
Built on the pledge to NEVER take a percentage of donations raised, we promote charity livestream events, showcase the portfolio growth of those involved, and connect our ecosystem of talented individuals to new opportunities.
Businesses have several benefits using the site both in Basic & Premium accounts. Signing up for a basic business account is free and businesses at the Basic level gain access to event posting, viewing individual preferences for business partnership, and more.
Premium accounts gain even more features like advanced user search, team creation, and Opportunity Board posting for both charity & non-charity projects & employment.
A basic Business Representative account upgrade is free for any verified business so they can claim their organization page.
Any official organization representative can have their account upgraded.
VIP Memberships are designed to provide greatly expanded features and open partnership opportunities for VIP promotions to our community.
Click below to view current pricing.
Get Started Today!
In order to apply for a Verified Business account, any interested organization will need to:


A verified representative will need to create an account on CharityLiveStream.com.



The representative will then need to email us at info@charitylivestream.com using an email domain that MUST match the domain of the business's website.

The email must include:

The business website (this must match the email used to contact us)
The CLS username and contact for the primary business representative
The contact information for a secondary authorized individual(s) and CLS username(s) [Note: a CLS account is not required for secondary contact(s)
A square logo image, .jpg format, between 200x200 to 400x400 in size
After the request email has been sent we will get into contact with you on upgrading the primary & secondary representative's accounts to Verified Business Representative status.
What CLS Does For You
By upgrading your individual account to Verified Business Representative, you gain several features:
Advanced Event Search
Find fundraisers matching company branding you can sponsor to add a kick of social good marketing to your tax write off
Individual Partner Search
Discover the perfect individuals to partner with based on skills, interests, and partnership type/availability they are open to
Business Portfolio Details
Research if their content matches your brand and see the proof behind the skills they list
Nonprofit Partner Research
Quickly locate nonprofits with synergy to your brand and are interested in the types of partnerships you offer
Business Showcase Page
A central hub for your brand providing consistent messaging on events you sponsor and automatically displaying those fundraisers on your page as social proof
Become A VIP Business Representative
Interested in accessing even more features like posting Premium Events with RSVP, creating partner teams, and promoting yourself further on CharityLiveStream.com?
Here's a list of all VIP Membership features for business representatives:
All Features Of Viewer & Verified CLS Member
Nonprofit Partner Search
Advanced Community Partner Search
Advanced Opportunity Search
Advanced Team Search
Access User Contact Form (If User Has Enabled For Account)
Create Partner Teams & Accept Member Requests

Create Team Updates
Create Project Pages To Showcase Non-Livestream Endeavors & Products
Create A Livestream Toolkit To Support Streamers
Create Unlimited Job Postings To The CLS Opportunity Board
Create Badges, Awards, Certificates, Letters of Appreciation, and Letters of Recommendation

Submit Premium Charity Livestream Events With RSVP Options: (Features with * coming soon)

*Send Introductory Emails Upon Registration Promoting The Event & Participants
*Send Reminder Emails Prior To The Event To Encourage Promotion
*Send A Thank You & Follow Us Email After The Event To Encourage Future Interaction

Submit Featured Content Requests To Promote Events, Opportunities, Projects Or Teams On CLS
Priority Processing On Account Verification Requests
Check out the VIP Business Memberships today!