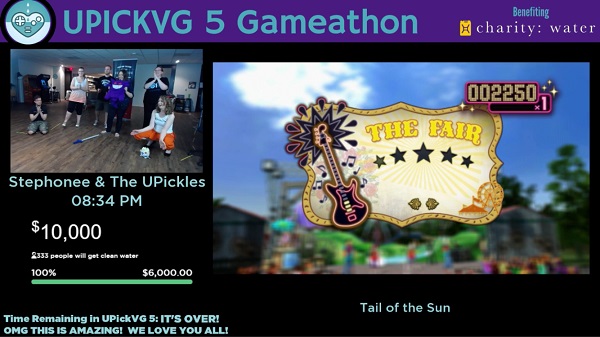 UPickVG 5 – The Fifth U-Pick Gameathon by UPickVG
When people with different skills band together, they can do amazing things. As a platform that grows with you, when you're ready to take the lead in managing your own community or team an upgrade to VIP Membership will give you everything you need.
Collaborate With Your Community
Create and manage your community or fundraising team, that CLS members can join, all in one place. Post blog updates, showcase charity streams / other project you create, submit an unlimited number of Community Opportunities to the Opportunity Board, and search members who join your community/team based on their skills, interests and current availability to partner on collaborations.
Be Discovered Online
With CLS you don't need to be an SEO expert on top of everything else. Get an optimized Community/Team page that will show up on Google, Bing, DDG, and other search engines without the cost and hassle of building, maintaining, and optimizing your own website.
Level Up Your Events
With event Premium Event pages designed for showcasing Communities/Teams, you can get the most out the unique visual design and (coming soon) RSVP features so your viewers won't miss a second of airtime.
Save Time With Advanced Features
Advance search to find the perfect partners for your collab, access to direct email forms (if the member has enabled them), priority processing on Account Verification Request updates, and more future updates streamlines the processes for getting things done.
Purchase Promotion Packages
Showcase your event, project, team, or favorite nonprofit in the Featured spot at the top of the page and top of lists where it applies on a first come, first serve basis so be sure to reserve the timeslot you need ahead of time. Work with us to design custom community/team structures with specialized updates, roles, layouts, and functionality.
Access VIP Deals
Browse exclusive offers from CLS VIP Business Partners on products focused on gaming, art, livestreaming, or building your own business. Gain access to the VIP Deals Mailing List to get updates on new offers straight to your inbox.
50% Off Memberships During Open Alpha
Purchase an annual membership before we launch to lock-in that rate for the length of your continuous membership.
Frequently Asked Questions
CLS is the first and only platform to offer integrated event promotion, automatic portfolio creation, team management, knowledge resources, and collaboration opportunities for those using their creative passions for helping others.
The site also is unique in it's pledge to NEVER take a direct percentage of money raised by our members.
CLS is NOT a registered non-profit. It's a platform built by Kitestrings LLC, a for-profit, start-up with a focus on empowering the community, non-profits, and businesses while never taking a percentage of donations.
We offer fixed price, annual VIP Memberships that give you access to tools, frameworks, and resources to help you grow your own online community and fundraising team.
VIP Members can also purchase additional advertising options as well as get access to exclusive deals from our business partners.
Current pricing for annual membership can be found on the VIP Memberships page.
The CharityLiveStream.com website can be accessed from any web browser and is mobile optimized for phones and tablets. Basic accounts are Forever Free, so if you have internet access, you can use the site.
​​​​​​​
No, however your account will need to be verified before you can submit events or personal projects to the site. Be sure to sign in and submit an Account Verification Request if you want to promote your own event on CLS!
CLS gives your team a home at the heart of a community focused on helping others while growing individual talents. A Team on CLS allows you to promote your team with banner images, video, links, and text descriptions while also empowering the community to join your team with the click of a button.
Team leaders can view the talents and supported causes of their members, keep the community informed with Updates, provide resources with Streaming Toolkits, and fill team needs by posting new projects as Opportunities which are also added to the Opportunity Board for larger exposure.
Of course! CLS is designed to grow with you. Free accounts allow members to find events, discover teams, and learn from educational resources on how to run an event.
Verified members can grow their individual portfolios for free after verification and the VIP membership is designed to streamline community management & help you better connect with other members.
Why Upgrade To VIP?
Put simply, the features of VIP Membership makes it easy to manage and promote teams you create when you want to expand beyond what you can do on your own.
By upgrading to VIP Membership you can:
Build Teams & Accept Member Requests
Create an online home for your fundraising teams or personal community that showcases updates, events, projects, toolkits, and opportunities
Premium Event Submission
Submit events with RSVP, schedule reminder emails to your supporters (feature coming soon!), have the option to remove individual posting credit on the sidebar, and remove the Featured Event section from the the top of the page
Priority Review
Have your account verification and fundraising events pushed to the top of the list for review & approval
Access User Contact Forms
If a member has enabled their contact form, you can send an email requesting collaboration
Advanced Search
Quickly locate events, opportunities, projects, teams, nonprofits, and businesses with synergy to your brand and are interested in collaboration
Partner Promotions
Access exclusive deals from CLS Business Partners and the option to opt-in to new promotions will be available from your user profile
"Featured on CLS" Options
Access the option to purchase digital promotion bundles
After learning from CLS's Resources, running your own events, and growing your talents, connections, and prestige, CLS has the tools to help you take the next step with projects larger than any one person can manage (or at least making those projects a lot more efficient).
Premium events with RSVP options, creating Teams that others can join, and posting upcoming projects to the Opportunity Board are just a few options for VIP CLS Membership. VIP memberships support the continued development and expansion of CharityLiveStream.com as well as it's mission to NEVER take a percentage of funds meant to help those in need.
The full list of features for a VIP CLS Membership can be found below:
All Features Of Viewer & Verified CLS Member

Advanced Community Search

Advanced Opportunity Search

Advanced Team Search

Access User Contact Form (If User Has Enabled For Account)

Create Teams & Accept Member Requests

Create Team Updates To Inform Your Community

Create A Livestream Toolkit To Support Streamers

Create Project Pages To Showcase Non-Livestream Endeavors

Create Community Opportunities For Opportunity Board

Submit Premium Charity Livestream Events With RSVP Options:

Individuals With Accounts Can Register For Events As A Viewer Or Contributor

Send Introductory Emails Upon Registration Promoting The Event & Participants

Send Reminder Emails Prior To The Event To Encourage Promotion

No "Featured Event" Section At The Top Of The Page

Submit Featured Content Requests To Promote Events, Opportunities, Projects Or Individual Account On CLS

Priority Processing On Account Verification Requests