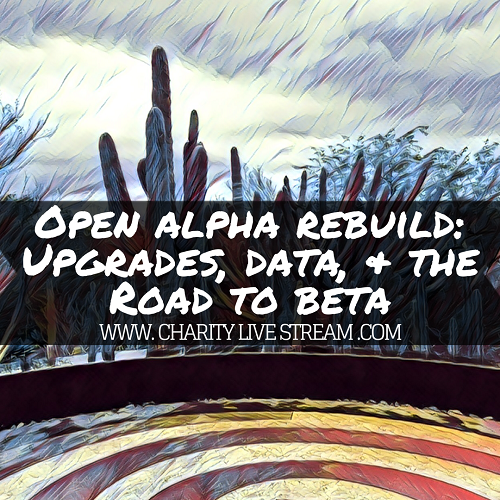 09/24/2019 - 20:50
Hello Everyone,
Today the ground up rebuild of CharityLiveStream.com is going from closed to Open Alpha. With this update comes a multitude of changes and I want to make sure we cover the major ones in this announcement.
There & Back Again, A Developer's Tale
There's a question many of you may have: "Wait, wasn't the site in Open Beta before?". This is true. I launched the original website into Open Alpha once before in April of 2015 and then Open Beta back in July of 2015. That version of the site was built on a system that didn't provide much flexibility, focused solely on promoting events, and, at the time, the designation fit since the site fulfilled that functionality.
However, the feedback from everyone over the years made it clear that the biggest issue faced by the community was finding others to help with organizing and running events. In 2017 I started work on rebuilding CLS from scratch to provide more flexibility to achieve that end and earlier this year the new website entered Closed Alpha to be tested by our Discord community. Now the major elements of the new site are complete and it's ready for public viewing.
Leveling Up With New Features 
The website now offers full integration within itself to better solve the community's core problem, discoverability. Events submitted to CLS cross reference with the poster, support staff, teams, benefiting nonprofit, and sponsoring businesses to automatically update and showcase that information on the portfolio profiles. What's more is that this inter-connectivity and many other updates now expands to every aspect of the site, allowing for a ton of new features:
Multiple User Roles For Community, Nonprofit, & Business Representatives
Verified Member Identity & Comprehensive Portfolio Profiles
VIP Member Features (Check out the CLS VIP Pages to learn more)
Independent Project Submission
Mentorship Search
Advanced Search Features
Teams & Communities That Members Can Join
Nonprofit Showcase & Volunteer Teams
Business Showcase & Partner Teams
Team Updates (Blog, Streaming Toolkits, Opportunity Posts)
Upgraded Opportunity Board Postings
Business To Nonprofit & Business To Business Opportunity Search
Complete Visual Overhaul
Even More To Come!
Why Not Release To Open Beta?
Though the site has all these new features working right now, there are still a few aspects that need polishing. However, the main roadblock delaying Beta is the transfer of events, users, and other data from the old site to this one. I am still the sole developer for CLS and with over 250 events and 600+ users, this will take some time due to the multiple changes in back-end site structure. Once this is complete the site will move into Beta and it will be full steam ahead towards the official launch.
What's Next? TwitchCon 2019!
Just like in previous years, I'll be walking the floor at TwitchCon 2019 in San Deigo this year. I'll be spreading the word about CharityLiveStream.com, and if you see me, don't hesitate to come say hello!
I'd like to sincerely thank every member of the CLS community who has supported me in getting to this point. We've already shown that gamers and artists are a powerful force for good and now we'll be able to streamline our efforts to help those in need through no fault of their own.
 
Stay awesome everyone!