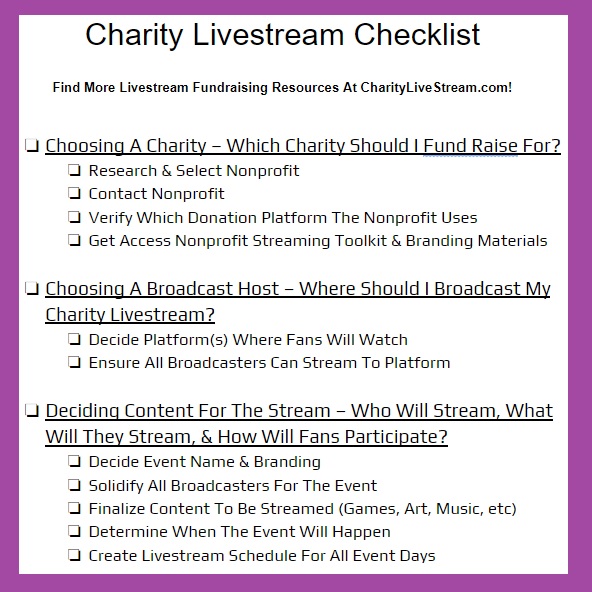 One of the big roadblocks to running a successful charity livestream is complexity in the event organization. From the entertainment to the technology to the marketing there are so many moving pieces that it can be overwhelming, especially when you're first starting out. 
This basic charity livestream checklist is designed to help anyone interested in running an event of their own. The checklist is broken down into 7 distinct sections covering all major steps for developing your own fundraiser and mirrored in the 7 Step Guide available on the website.
This checklist is freely available to everyone with a passion for combining fun, live events with raising money to help those in need through no fault of their own.  
If you find this checklist useful, please consider joining the CLS community and sharing this with others.
If you're interested with a more in-depth checklist that also covers specific items for in-person events, as well as an organizational spreadsheet you can use to assign and track each item as tasks for your team, upgrade your account to a VIP+ plan and support the expansion of resources to help others.
To access the checklist document and download it for yourself, use this link: Free Charity Livestream Checklist
To those having trouble accessing the document, below is the text for the checklist in full:
Free Charity Livestream Checklist

Organizing and running a livestream fundraiser can be difficult with the many different aspects that you need to keep track of. To help everyone interested in running a livestream fundraising event of their own we've created this handy free checklist with the basics for each step of the event organizing, event management, and post event followup process. 
For more information on these steps, additional resources to help with your livestream fundraising event, and a platform to both promote your event as well as discover others to assist, come join the CLS Community today!
Find More Livestream Fundraising Resources At CharityLiveStream.com!
 
Choosing A Charity – Which Charity Should I Fund Raise For?

Research & Select Nonprofit

Contact Nonprofit

Verify Which Donation Platform The Nonprofit Uses

Get Access Nonprofit Streaming Toolkit & Branding Materials
 

Choosing A Broadcast Host – Where Should I Broadcast My Charity Livestream?

Decide Platform(s) Where Fans Will Watch

Ensure All Broadcasters Can Stream To Platform
 

Deciding Content For The Stream – Who Will Stream, What Will They Stream, & How Will Fans Participate?

Decide Event Name & Branding

Solidify All Broadcasters For The Event

Finalize Content To Be Streamed (Games, Art, Music, etc)

Determine When The Event Will Happen

Create Livestream Schedule For All Event Days

Determine Community Interaction
 

Organizing The Event – Building A Team, Determining Schedule, & Pulling The Pieces Together?

General Organization

Create Budget Sheet For Event

Verify Rights To Use Music During Stream
 

Team Management

Gather Team To Fill All Roles For Event

Search CharityLiveStream.com For Potential Partners

If CLS VIP, Post Update To Your Team/Community With Upcoming Plans

If CLS VIP, Search Through Your Existing Team Members For Skill/Interest/Availability

If CLS VIP, Post Request On Opportunity Board

Delegate Volunteer Managers

Set Up Organizational Tools

Delegate Tasks To Team Managers

Create Volunteer Contact List

Create Volunteer Event Production Schedule

Send Calendar Booking To Teammembers

Create & Send Event Information Packet (If In-Person Event)
 

Nonprofit Donation Set-up & Involvement

Set Up Donation Page

Verify Nonprofit Representative Schedule (If Participating)
 

Sponsor Management

Set Event Sponsorship Packages & Pricing

Build List Of Potential Partners

Write Sponsorship Proposal

Reach Out To Potential Sponsors With Proposal

Finalize Sponsor Contracts & Sign Agreements

Verify Sponsor Representative Schedule (If Participating)

Confirm Receipt Of Sponsorship Items/Funds

Confirm Execution Of Sponsor Benefits
 

Create Written Content For Event

Short Event Summary & Teaser

Detailed Event Description

Press Release & Media Kit

Scripts For Broadcaster Introductions

Scripts For Cause Shout Outs During The Stream

Proofread & Finalize All Content
 

Create Visual Content For Event

Logo/Event Icon

Event Banners

CLS Event Banner = 750px by 500px

Social Media Images

Livestream Overlay

(Optional) Alert Icons

(Optional) Emotes

(Optional) Create Promotional Video For Event

(Optional) Printed Materials For In-Person Events

Proofread & Finalize All Content
 

Pre-Event Testing

Test & Verify On Stream Communication Works For All Broadcasters (Discord, Skype, Google Hangouts, etc)

Test & Verify Broadcasting Setup Works Properly For Each Broadcasting Station

Test & Verify All Games For Broadcast (If Applicable)

Test & Verify All Logins For Promotional Accounts

Hold Final Meeting To Review Plan For Event With Team
 

Promoting The Stream – How To Market My Charity Livestream? 

Create Marketing Campaign Outline

Decide On Branding For How You Want To Promote

Choose A Hashtag For The Event

Determine Marketing Channels (Social, Email, etc)

Ensure All Online Accounts Are Cross-Linked

Create Marketing Schedule Outlines
 

Create CharityLiveStream.com Event Page

Check If Intended Nonprofit Has CLS Account

If Not, Reach Out & CLS Can Help With Set-Up

Check If Intended Sponsors Have CLS Accounts

If Not, Reach Out & CLS Can Help With Set-Up

Ensure Own CLS Account Is Verified

If Not, Fill Out An Account Verification Request

Ensure All Volunteers, Broadcasters, & Organizers have CLS Accounts For Recognition

Submit CLS Event Page For Review

Event Banner = 750px by 500px 

CLS Has Colorful Generic Banners For Use If Needed

(Optional) Add Needed Skills To Boost Volunteer Awareness

If CLS VIP+, Set Up RSVP For Event After Review Approval
 

Schedule Event Outreach

Set Up Social Media Scheduling Tool

Create Social Media Post Templates For Each Platform

Schedule Blog/Long Form Posts Promoting The Event

Create & Schedule Pre-Event Social Posts To Feed Out Different Information About The Event Regularly

Create & Schedule Minimum Number Of Social Posts Per Hour During Event
 

Ensure Everything's Adhering To Promotional Schedule

Remind Broadcasters & Volunteers To Share Event

Ensure Partners / Sponsors Share The Event If In Contract

Send Emails To Supporters (If Applicable)

Reach Out To Local News Outlets To Get Additional Coverage
 

Broadcasting The Event – How Do I Run A Charity Livestream? 

Technical Team

Setup Video For Stream 

Setup Audio For Stream

Ensure Video & Audio Are Synced On Stream

Handle Livestream Transitions When Needed

Get Upcoming Entertainer's Microphones Set Up

Handle Any Unforeseen Technical Issues

Have Fun!
 

Broadcasting Team

Stay Hydrated

Be Authentic & Engage With Audience

Encourage Viewers To Share The Livestream

Take Scheduled Food & Bathroom Breaks

Have Fun!
 

Marketing Team

Ensure Marketing Is Running Smoothly During Event

Prepare For Post Event Video Editing (If Possible As This Makes Future Things Easier)

Have Fun!
 

Organization Team

Ensure All Team Members Are Staying On Schedule

Coordinate Between Members To Keep Stream Running Smoothly

Ensure Food/Drink Are Stocked/Delivered

Handle Any Unforeseen Issues That Arise 

Have Fun!
 

After The Charity Livestream - Thank Yous, Donation Verification, & Future Planning 

Create & Send Thank You Messages To Broadcasters, Volunteers, Staff, & Sponsors

Compile Livestream Video & Create Post Event Videos

Verify Nonprofit Has Received Donations

Create & Send Sponsor Reports - Summarize What Benefits Were Delivered For Sponsorship & Overall Event Impact

Update CLS Event Page

Final Donation Totals

Event Video Links

Any Last Minute Volunteers or "Mystery Broadcasters" You Want To Give Recognition

Pay Off Any Remaining Invoices For Event


Good luck with your event and we're looking forward to helping promote it on CharityLiveStream.com!