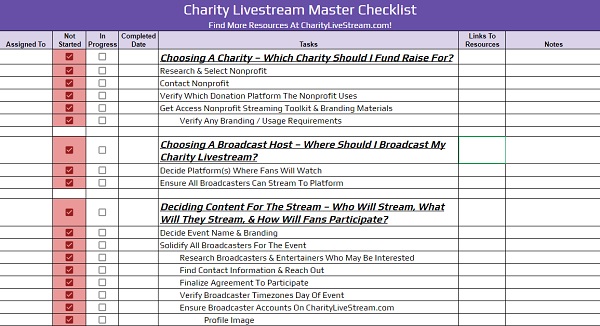 When organizing your own charity livestream, having a plan is paramount. Our checklist document and spreadsheet covers each step in the process of organizing a digital fundraiser, from selecting the platforms you use to reaching out to sponsors to testing your technology prior to the event.
This Google Spreadsheet template is designed to be shared with your team to:
Directly assign or allow team members to sign up for tasks
Track the task progress with color coded "Not Started" and "In Progress" checkboxes as well as a color coded "Completion Date" column
Collect the links to other resources in one organized column
Provide any relevant notes on task progress
A downloadable Google Document version, in the style of the free checklist, is also available for those who want the satisfaction of checking off the boxes with traditional pen and paper. 
This resource is perfect for individuals and teams wanting to scale up their livestream fundraising without missing something critical to an event's success.
Sign in with your VIP+ account to access this resource today! 
Interested In Tools To Help Your Next Event?
This resource is available to all CLS VIP+ Members as a thank you for their support in our mission to promote fundraisers while never taking a percentage of donations raised. If you want to access this resource and others, upgrade your free or VIP account to VIP+ Membership today!