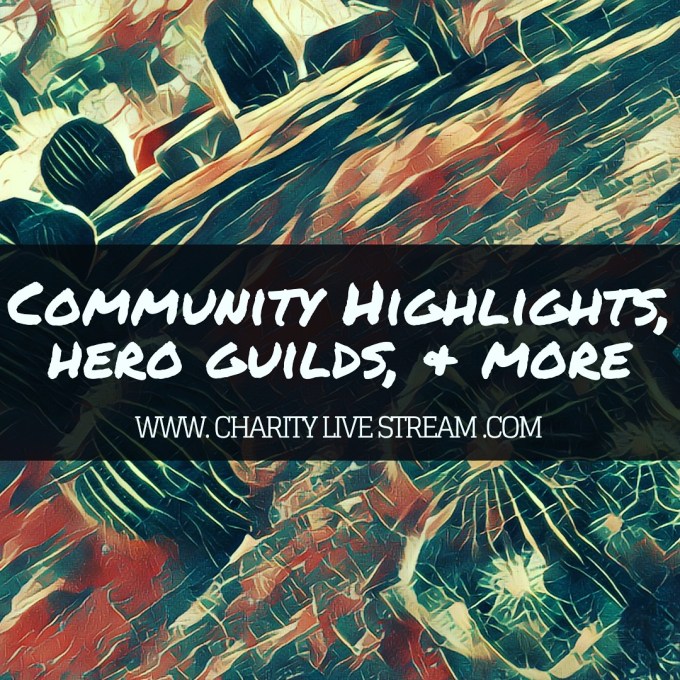 04/09/2017 - 17:43
Hello Everyone,
Before getting into the updates from last week, I want to announce that CharityLiveStream.com has now promoted over 100 events on the site since it's inception! Thank you all for your support getting to this point. CLS is nothing without all you awesome people and the passion you've shown is what keeps me going. What a great way to kick off the 2 year anniversary of the orignal alpha site, am I right?
Last week saw two major updates to the site, (Community Highlights & Community Improvements) several minor updates, and a lot of back-end organization/preparation for work I'm doing this week, (like the new hompage that went live on Monday).
Community Highlights
In celebration of 2 years working on the site and the awesome work you all have done, I'm creating a "Community Highlight" livestream series to help showcase you awesome people. What makes a charity stream successful isn't the game or the technology, but the individuals who dedicate their time to organize, promote, test, entertain, moderate, and create the entire experience.
My goal with the series is to highlight users on the site who contribute to making charity livestreams successful, whether as broadcasters, those behind the camera, leaders of fundraising teams, nonprofit representatives, or people part of the businesses that allow us to stream.
More details can be found in the announcement post, which also has the application form for those being featured, guest hosts, and anyone interested in sponsoring the series: Be Featured In Community Highlights
Hero Guilds & Community Improvements
While the first update week focused on updates for individuals, last week expanded on that.
The Hero Guilds page has been fully upgraded with updates to group profiles and matching designs to the other Community pages. If you're interested in upgrading your existing account to a group profile and helping to shape upcoming features to CLS, please fill out a Team Account Application. If you already have an event, be sure to update your profile with the most current information.
All community pages now have cross-navigation to other elements of the site that focus on that community along with integration for related blog & "Community Highlight" posts. Both events and user profiles have been updated to easily integrate into this new system. Community pages with a theme will now direct to that particular category of event or group on the site. (Game Center links to Gaming Events & Gaming Groups if you're logged in.) Always remember to properly fill out your event categories and profiles so they can be discovered by the community!
Upgrading Updates & Minor Improvements
There were several smaller improvements to the site and the outreach process as I get a better handle on things:
Feature: Added a new Products/Services section to business profiles. Business accounts can now create a 3 item set of title, description, and link to showcase what specific things they offer & promote it on their page.
Fix: Streamlined/consolidated the menu system for logged in & logged out users.
Fix: Website now highlights 5 events on the homepage instead of all upcoming events
Finally, I did the 2nd Dev Update Livestream and updated the overlay. It will probably be a few more streams before I figure out the best process for organizing everything, but this stream went smoother than the last one and I thank you all for your support!
Check out all upcoming events on the CLS Calendar!
I hope everyone is doing awesome!
Mark "Clive"
Founder of CharityLiveStream.com