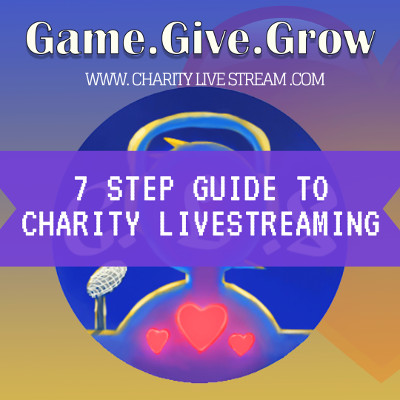 This guide is intended to be a comprehensive look at the process of running a  successful charity stream. It's meant for everyone interested in running their own charity livestream, novice or veteran, and built out of my own knowledge and research so far. While the resources listed in this how-to-guide are certainly not the only methods or tools you can use, it's my goal that this guide is as comprehensive as possible so you can work towards fund-raising for what you care about.
"7 Steps To Running A Successful Charity Livestream"
Whether you realize it or not, there are 7 steps that every individual or group takes when organizing a charity stream. The steps below are broken down into pages & sub-pages.
Click below to skip ahead for specific knowledge or pull out the caffeine because we're marching into Charity Livestream Boot Camp.
Table of Contents
Choosing A Charity – Which Charity Should I Fund Raise For?
Choosing A Broadcast Host – Where Should I Broadcast My Charity Livestream?
Deciding Content For The Stream – Who Will Stream, What Will They Stream, & How Will Fans Participate? (Coming Soon)
Organizing The Event – Building A Team, Determining Schedule, & Pulling The Pieces Together? (Coming Soon)
Promoting The Stream – How To Market My Charity Livestream? (Coming Soon)
5.A. Creating An Information Page – Where Can People To Learn About Your Event? (Coming Soon)
5.B. Marketing Channels & Campaigns – Where Do I Promote My Charity Livestream? (Coming Soon)
5.C. Marketing Campaigns – How Do I Promote My Charity Livestream? (Coming Soon)
Broadcasting The Event – How Do I Run A Charity Livestream? (Coming Soon)
After The Charity Livestream – Thank You Message, Verifying Donations, & Strategies For Your Next Stream? (Coming Soon)
While these steps are relatively straightforward, you should already notice that some are MUCH more involved than others (especially Step 7). If you haven't run a livestream before (and expect an organized, successful one to be your first) then be prepared to learn everything you need to know, and then some. If you have several events under your belt, you'll notice I'm categorizing information you've already learned through experience. However, you may also find several new tools in the resources listed.
Please note, despite the size of this How-To series, there's no way that I could go in-depth into every element of creating, promoting, and running a charity live stream.
If you find that there is information missing and want to help out, I highly recommend you to reach out to me on the CLS Discord and I'll make the updates.
If you're a representative of any companies or groups listed and are interested in helping broadcasting teams fundraise for charity, either financially, by providing information/tutorial materials specific to broadcasting charity streams, cross promotion, or any other way, please contact me! As the CLS community grows, more people in need can be helped and both nonprofits & businesses can take advantage of a skilled ecosystem of individuals growing their skills through fundraising.
Alright then, let's get started!

[Disclaimer: As an expansion of the first guide, I intend to mention A LOT of companies & resources. This guide is NOT intended as a quality assessment or review of any tools or services, only that they are available as options for you to utilize. While product reviews are a potential option for CLS in the future, always be sure to do your own research into whether a tool/service fits your needs.

As of this guides creation, neither CLS or I am receiving payment or sponsorship from any company listed, however if any companies are interested in supporting CLS, I will clearly indicate it and also probably offer to let them add a short description of their product/service. If any company does decide to join or support CLS, please check them out since their support enables me to continue building more awesome features for the community.]