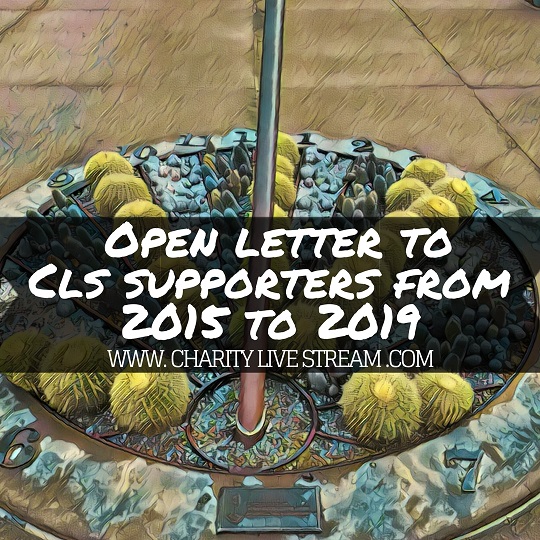 Hello Everyone,
This is Mark Svetik, but call me "Clive" as as that's the name you all gave me at the start of this venture. As the CEO of Kitestrings LLC and creator of CharityLiveStream.com I have had the pleasure of your support for almost 5 years as I took CLS from a simple event calendar to the fundraising focused community empowerment platform that it is today.
Since 2015, your support and feedback has been invaluable in helping me learn what the community needs so I can develop tools that can do the most good. In 2017 I realized that the limitations of the website I built would prevent me from achieving what the community needed, so I started the process of rebuilding the site from and at the end of September 2019, just before TwitchCon, I pushed the ground-up rebuild of the platform into Open Alpha. 
Right now I'm transferring over all the accounts and events from the old site to the current platform and as soon as that's completed there will be 1 final week to take advantage of the 50% off VIP membership packages. This will mark the end of the Open Alpha, the push to Open Beta, and a discount of only 25% on VIP memberships as we approach the full launch in Feb. 2020 where the only discount will be 2 months free with an annual subscription.
My mission to create a stable, self sustaining platform while holding to my pledge to never take a percentage of donations has been a slow and steady journey so far and will continue in the years to come, which is why I'm excited to announce the next steps as well as what this means for everyone who has supported my efforts since 2015.
 
What You Need To Know
You all are awesome, the new site blows the old site out of the water in terms of features, and I'm spending Oct and Nov of 2019 to transfer over the data from the old site to the current one (this is the Open Alpha period).
 
Keep an eye on your inbox for a link to update your account's password. This will be sent automatically after your account has been transferred.
 
In order to submit events to CLS you now need to verify at least one 3rd party account or website you own. This usually means a Twitch, Youtube, Mixer, or other streaming account if you're a broadcaster or any social media account if you aren't. This identity verification ensures, through CLS's manual review, that you are the official person that owns the account(s) in question. You will get an indicator on your profile that your identity is verified to prevent any confusion with fan or parody accounts and there will be both a link to the accounts you verify, but also the username for that account as sometimes you can't claim the same name on all platforms due to length or availability. 
 
Every approved event and personal project (a new feature of the rebuild) now automatically populates into the profiles of every individual, team, nonprofit, and business sponsor involved. Simply add those you're crediting to the page during event submission and with that 1 post everyone involved benefits from it's addition to their portfolios.
 
Events submitted to the site must now benefit a nonprofit with a verified account on CLS. This process is free for any US 501c3 nonprofit organization and those nonprofits even get certain VIP features for free as part of our pledge to never take a percentage of donations raised.
 
The event review process has also been updated. Submitted events must use a donation tracker matching one on the nonprofit's approved list. Fundraising events where you accept donations directly are, as always, highly discouraged, however the original policy where the charity stream can pass review if you have written approval from the nonprofit for your event is still in place.
 
Proper groups are now available on the site to manage and promote to your community (or fundraising team) for any VIP Member or Verified Nonprofit Representative.
 
Open Alpha ends 1 week after data has finished being transferred, the 50% price discount on VIP memberships will also end at that time, and then I'll push the site into Open Beta with a 25% discount on all VIP memberships until the full launch in 2020.
 
Take advantage of your discount while you can, update your portfolio profile so you can show up in the  community features, and submit an Account Verification Request after reading the instructions to submit events and personal projects.
 
If you submitted an approved event to CLS under the old site, you'll receive a 1 year VIP Membership set to expire 1 year and 2 days after the site's intended full launch date. (Expires Feb. 15, 2021)
 
If you have any questions, comments, or concerns join the CLS Discord and ask. I post regular updates there and it's the best way to get in touch.
The focus with this rebuild is to build trust and eliminate risk within the community. While Account Verification Requests add an extra step in the process to submit events, actual event approval has been streamlined with additional verification to build trust for donators and everyone involved with an event now automatically benefits through the portfolio profiles and showcase pages.
Additionally, the inclusion of Projects on the site (which can include both charity focused and non-charity focused endeavors) now allows for everyone to post anything they create or do to validate the skills listed in their portfolios. This creates confidence for businesses and nonprofits looking to fill paid positions in hiring members of our community.
Over the next few months I will be creating more content covering what's new on the site in more detail and how to use the site effectively for charitable success and personal advancement.
Stay awesome everyone and thank you all again for your continued support.
Sincerely,
Mark Svetik - "Clive"
10/28/2019